Our Customers Tree-m Big with PrintReleaf
Here at myMailHouse, we are working to reduce the environmental impact of printing by partnering with PrintReleaf, a patented software platform that empowers businesses to certifiably reforest their paper consumption.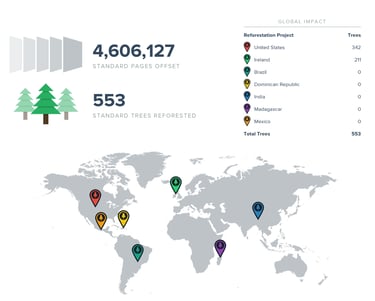 As both a commercial printer and mailhouse, myMailHouse uses A LOT of paper, which gives us the opportunity to plant A LOT of trees! Since our PrintReleaf partnership began in late 2017, our customers have helped us plant 533 trees. That's equivalent to 4,606,127 individual pieces of paper!
We know that paper is still an important tool in business today. With myMailHouse + PrintReleaf, printing and mailing business-critical documents just became sustainable. Together, we can help releaf the world, one print job at a time.
Find out more about PrintReleaf HERE.